Australia's trusted residential cleaning service.
Whether you need a one off clean to spruce up your home or a regular service such as daily, weekly, fortnightly or monthly clean.
We are able to accommodate all of your cleaning needs.
AustClean are trustworthy & reliable, all teams are police cleared and fully insured.
All work is Guaranteed.
A spotless clean every time.
Guaranteed.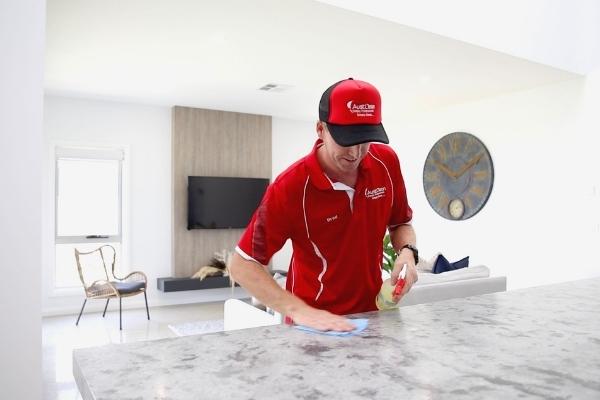 A typical residential clean may include:
Bathrooms
Mopping
Vacuuming
Dusting
Carpets
General Cleaning
The typical services for a regular cleaning include mopping the floor, making the bed, cleaning the bathroom, vacuuming different areas within the house, and dusting all surfaces.
No matter what type of cleaning you're looking for, be sure to book a deep cleaning service. Your home will look better with extra attention paid to the bathroom tiles, kitchen appliances, and even the wastebaskets.
What cleaning services can I expect?
AustClean's professional cleaners can assist with all your residential cleaning needs, including:
Vacuuming carpets and floors.
Sweeping and mopping floors.
Emptying trash.
High and low dusting.
Cleaning door handles and light fixtures.
Dusting windows, window sills and ledges.
When it comes to residential cleaning what makes our services better than the rest?
At AustClean we understand the importance of having a clean home and how difficult it can be to maintain a clean home.
And because our staff have their own particular regions to service, you'll be dealing with the same professional and friendly team every time.
Every AustClean cleaning services is a franchised business, so quite literally it is their business to ensure the success of every cleaning job they do
When you don't like cleaning, call the cleaning specialists at Austclean.
Don't like cleaning?
We love it!
There's nothing more satisfying than getting your home looking clean, and seeing all the dust disappear. Our crew loves cleaning, and even more importantly they love seeing the results.
We strive to make sure that our premises always look amazing, and we're really proud to achieve amazing results.
Contact your nearest AustClean team today, and see what an amazingly clean difference your home can look like.